Every Donation Counts!
Wilshire is proud of the fact that admission to our program is based on need rather than the ability to pay. We believe that every person deserves quality End-of-Life care.
Donations allow us to continue to serve these patients.
Good Neighbor Day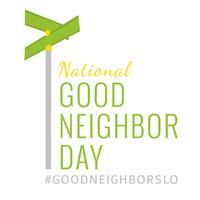 GOOD NEIGHBOR DAY SLO
Official Day: September 28th
Service Acts: September 22nd - October 1st
Wilshire Community Services is celebrating National Good Neighbor Day and we need your help! We are looking for individuals, families or businesses to get together and do a neighborly act of service in your community. We will be kicking off the week of celebrating at our Farmer's Market booth on Thursday, September 22nd. Come by and grab a Good Neighbor balloon or t-shirt; when you do your neighborly act be sure to tag #goodneighborSLO
Need ideas for your group? Check out this list of service project ideas
WANT TO PARTICIPATE?
Fill out our fillable service project forms: Form A and Form B and email them to Jamie Dietze at goodneighbor@wilshirehcs.org
« Back to Latest News & Events